In this workshop we will introduce game and narrative design using RenPy, which is an open source and cross platform engine for digital storytelling. It makes it easy to combine words, images, and sounds to create visual novels and life simulation games. There will be an example demonstration of the work made possible by RenPy, and we will learn by doing by diving into the backend, using tutorial of different sections and buttons in this platform. There will be storyboarding, sourcing images, creating dialogue between characters, and so on to develop a narrative game. At the end of the session, those who wish to do so can show their completed works!

maximum capacity: 8

2 hours of instruction
Instructor: Lequanne Collins-Bacchus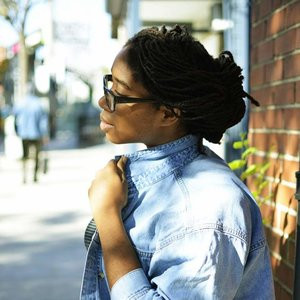 An artist and intellectual peripatetic, Lequanne has worked in various capacities from researching machine learning at OCAD University to assisting with the erection of a memorial bench for Third World Bookstore by Bathurst station to copy-editing for online publications to participating in a Google hackathon for equality. She has spoken and exhibited as an advocate of digital inclusion in Toronto, Canada and London, UK at Mars Discovery District, Mozilla Festival, and Make Change at the Design Exchange. A top-4 shortlisted inaugural 2017 Code for Canada Fellow, Lequanne is fascinated by the intersection of community engagement, digital media, and e-service. She also works at the Ontario Digital Service and through her technology consultancy, digital publica (formerly PAERE). Lequanne is honing her passion for technology governance and digital transformation concurrently in her Masters of the same name at Tallinn University of Technology in Estonia and her joint MicroMasters/ALM in Data and Economics at Massachusetts Institute of Technology/Harvard University. She divides her time between Tallinn, Estonia and Toronto, Canada.

| | | |
| --- | --- | --- |
| $0 | | all-in or workshop member |
| $10 | | production member |
| $65 | | nonmember |
Register Now!