PART TWO - Light, Form + The Stage (July 21)

This hands-on course teaches students to customize graphical content (video, image) and then map this content on to physical 3D objects using Isadora*. Students will have the opportunity to put these techniques to use by workshopping with assigned actors, playwrights, and other key players in the professional arts and theatre industry.
*Working knowledge of Isadora is a requirement to take this course. Successful completion of the "Projection Mapping for Artists 101" course will suffice.
See the work of past students that have taken this course here: http://projectionmappingworkshops.com/student-work
Learning Objectives
Theory: best practices for digital augmentation in a physical world, projection art, principles of light, colour theory and interaction design.
Learn the basics of GPU codecs ideal for multiple simultaneous playback in a real-time environment.
Image/Video Production: make digital content your own through filters, compositing, special effects, editing, masking, keying.
Projection Mapping & Interaction: map your own customized images and videos onto 3D surfaces, and develop manual & live input as actuators.
Conceptual Development: learn to articulate and execute a raw idea from inception to a real-world exhibition.
Industry Engagement: deliver an innovative and sustainable production in collaboration with industry partner.
Check out student work here:
TRAILER:
maximum capacity: 16

5 hours of instruction
Instructor: Maziar Ghaderi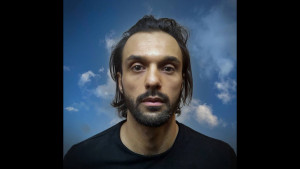 Maziar Ghaderi is a Toronto-based multimedia artist, educator and director that works with visual media and interactive technology. With a background in multimedia production, his work is situated at the intersection of technology, the experiential and creative direction.

Maziar's work has been curated in Toronto, Vancouver, Calgary, Halifax, Los Angeles, Boston, Istanbul, Dubai, Abu Dhabi, and recognized by the MIT Media Lab (2016), International Symposium on Electronic Art (2014), The Creator's Project (2014 & 2015), Textbook, Crew Magazine, The Globe & Mail (2x, 2015), CBC Radio (2016), IxDA (2013) Toronto Life, The Georgia Straight (2011) and SIGGRAPH (2013). He has also presented at eLeo, Augmented Cinema Film Festival, Toronto Wearables, Changemakers, Subtle Technologies, Gladstone Hotel, The Gardiner Museum, Shopify, SummerWorks Festival, Luminato Festival, HarbourFront Centre's HATCH festival, Sumahan Art Centre, The Fridge Dubai, Nuit Blanche (2015, 2016), Ontario Centre of Excellence and has co-authored several academic articles for design conferences.

With the direction of Marina Abramovic, Maziar was the media producer and on-site technical assistant for the 2013 Luminato Festival's MAI Prototype, and has directed and produced his original work, Dissolving Self for the International Symposium on Electronic Art 2014 (ISEA) held in Dubai. Maziar has also taught media production and conceptual development at OCAD University and Ryerson University, and holds a Diploma in Marketing Management, a Certificate in Entrepreneurship from McGill University, a Bachelors in Media Studies and a Masters in Design. In past lives, Maziar has filmed obscure shorts in Vancouver, cut limes in Montreal, sold phrasal verbs in Brazil and worn cotton diapers in Tehran. Connect on Linkedin here.


| | | |
| --- | --- | --- |
| $0 | | all-in or workshop member |
| $150 | | production member |
| $150 | | nonmember |
Register Now!